Stainless steel rope mesh is versatile in the application including zoo mesh, aviary mesh, decorative mesh, etc. It is also an ideal choice for indoor and outdoor railings such as stair railing, balustrade, guardrail and bridge railing.
The material for rope mesh is high quality stainless steel wire rope, the stainless steel grade includes AISI 304 and 316 mainly, the materials meet the requirements of international standards, which can be used more than 30 years.material AISI304 Stainless steel apply to most of the area, the material AISI 316 mainly used for wet environment, like seaside.
From the perspective of safety, the stainless steel rope mesh is strong and firm, which can effectively prevent people from falling. It can be designed like a railing in a traditional way, or it can also be designed as a protective wall extending from the ceiling to the ground. The excellent visibility of stainless steel rope mesh can create a magnificent and transparent space effect.

There are two types of rope mesh,ferrule rope mesh and knotted rope mesh.The difference between them is the different connection methods of the two neighboring ropes.ferrule rope mesh are combined by ferrules to form diamond openings, while the knotted rope mesh are woven, same material as the rope mesh.
The mesh opening standard angle is 60°, but other angles are also available, such as 10° and 90°. Stainless steel rope mesh is very flexible, and its width and length can be modified and customized.
The rope mesh has excellent flexible performance, virtually indestructible, most impacting-resistant and breaking resistant force, most resisting rain, snow, hurricane.
Stainless steel rope mesh are mainly used in the hotels, shopping malls,zoo, supermarkets, office, indoor decoration, mechanical protective cover, electrical ventilation, aquaculture and many other industries.
Common specifications for Stainless Steel Rope Mesh
: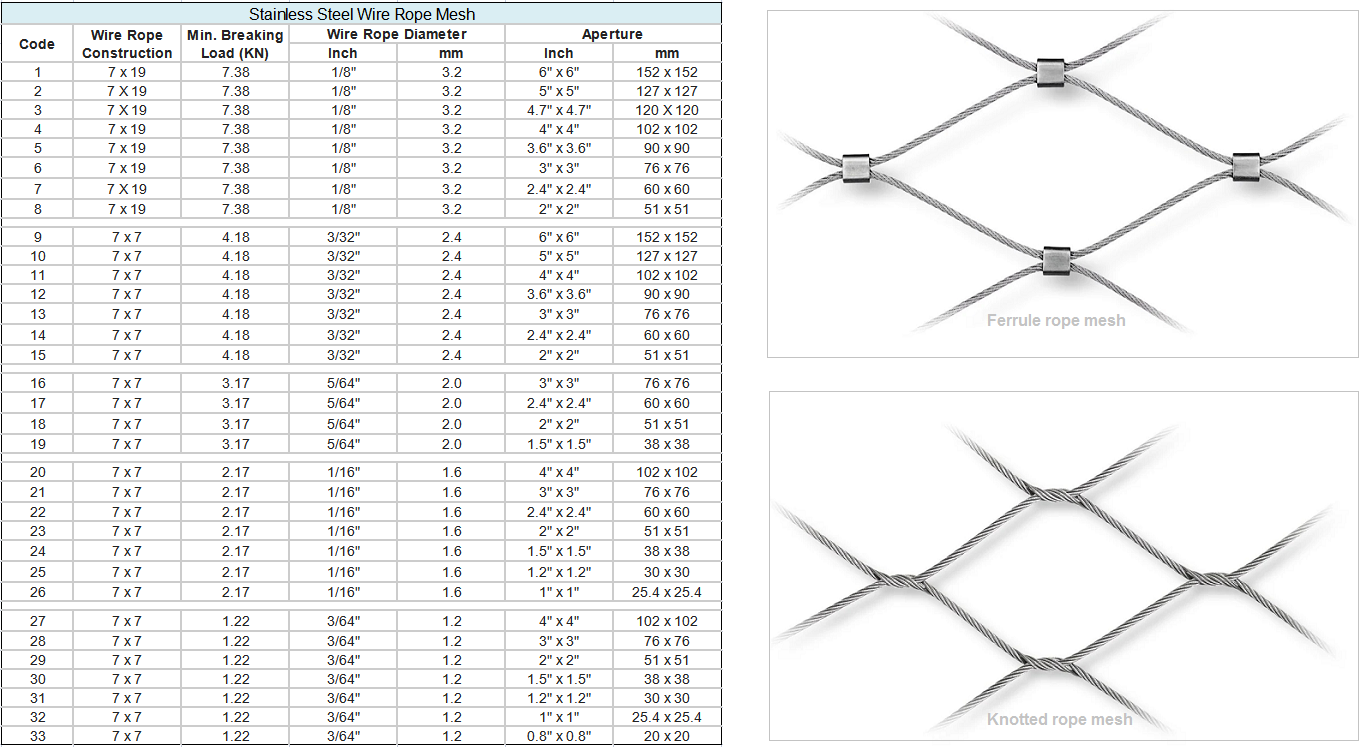 Feature of rope mesh:
High Flexibility
High Strength
Good Softness
Excellent Rust-Resistance,Recyclable
Outstanding Grand Appearance
Maintenance-Free and Environmentally Friendly.
Application for Stainless steel rope mesh:
Zoo mesh: It's widely used as the safety fence in the zoo,animal cage,aviary mesh, bird cage,Bear Enclosure Mesh,Monkey Enclosure Mesh.
Balustrade mesh,railing mesh,plant climbing wall,architectural mesh,
Falling prevention mesh,staircase protective mesh,Amusement park facility protection network,Circus fence.
Decorative Mesh, etc.