Farm fence is made of high-strength galvanized steel wire, with high strength and large tension, which can withstand the fierce impact of cattle, horses, sheep and other livestock, and is safe and reliable. the farm field fences are with the good property of firm and precise structure, flat surface, great toughness, non convergence, anti-skid, compression resistance, wind and rain resistance, good corrosion resistance, strong anti-corrosion, oxidation resistance and other characteristics. It can still be used for a long time even in harsh natural environments. The phenomenon of looseness and deformation will not occur under local pressure.
The Farm fence can be used as grassland fence, cattle fence, deer fence, which can be used for grassland construction in pastoral areas. It can enclose grasslands and implement fixed point grazing and separate grazing, which is convenient for planned use of grassland resources, effectively improve grassland utilization and grazing efficiency, prevent grassland degradation and protect the natural environment. At the same time, it is also applicable to the establishment of breeding farms, border defense, farmland fence, forest nursery, closure of mountains for afforestation, enclosure of tourist areas and hunting areas, isolation and maintenance of construction sites, etc
The common farm fence knot are Fixed knot and Hinge joint knot.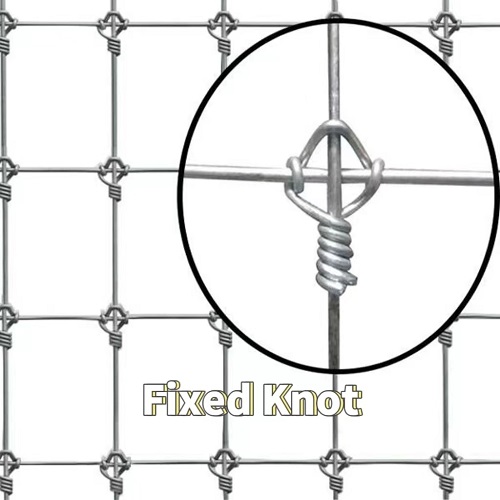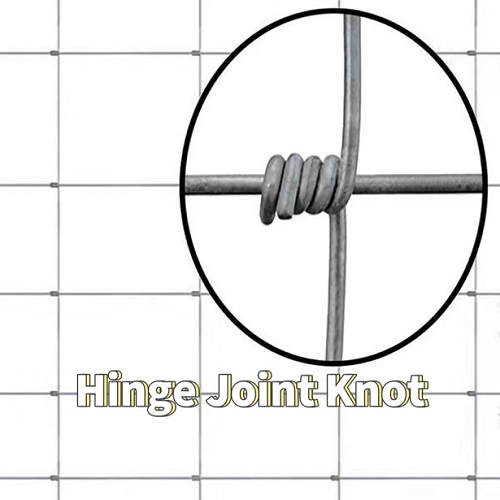 Farm fence with Fixed knot
Fixed-knot fencing is ideal for deer exclusion and livestock fencing. This fencing is thicker wire class 3 galvanized, creating a fence that is long-lasting and rust-resistant. The fixed knot locks the vertical stays to the horizontal stays so the fencing cannot be deformed or pushed apart.
The fence openings are graduated to keep out smaller wildlife at the base of the fence. Post for the fixed knot fence should be placed about every 20'. Perfect for livestock, large perimeters, gardens, orchards, and vineyards.
Material:High carbon hot-dip galvanized wire, Low carbon hot-dip galvanized wire.
Fence Height:127cm, 155cm,200cm, 244cm, etc.
Fence Length: 50m or 100m.
Line Wire: 2.5mm.or customized.
Stay wire: 2.5mm.or customized.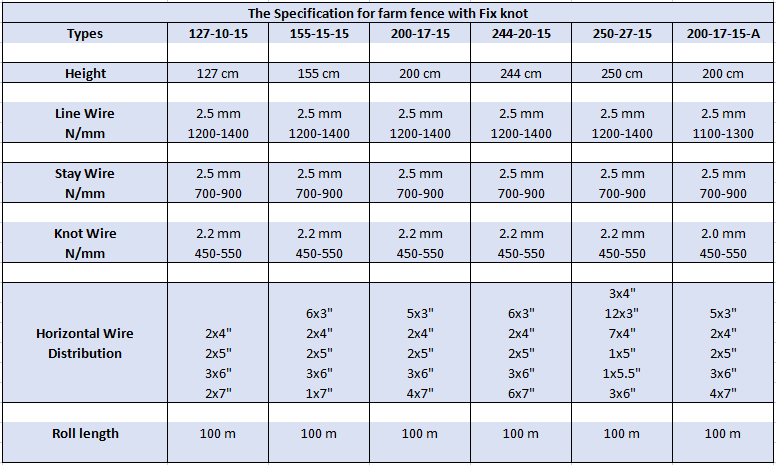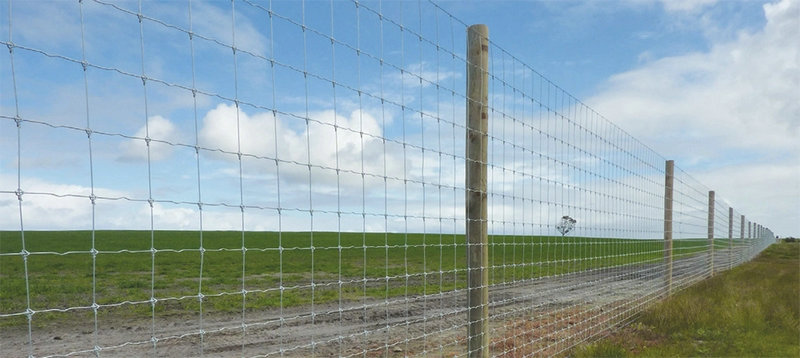 Farm Fence with Hinge joint knot:
The raw material for making the farm fence is hot-dip galvanized steel wire, with thick galvanized layer attached to the surface. Other parts are also treated with rust and corrosion prevention, which can adapt to harsh environments and have a service life of up to 20 years.
In the process of weaving the farm fence cattle fence, the weft wire is bent, which enhances the elasticity and buffering function of the mesh fence surface,It can effectively adjust the deformation caused by thermal expansion and cold contraction, so as to keep the fence in a tight state.
Farm fence has simple structure, small volume and light weight, convenient maintenance and short construction period.
Specification for Farm field fence with hinge joint knot: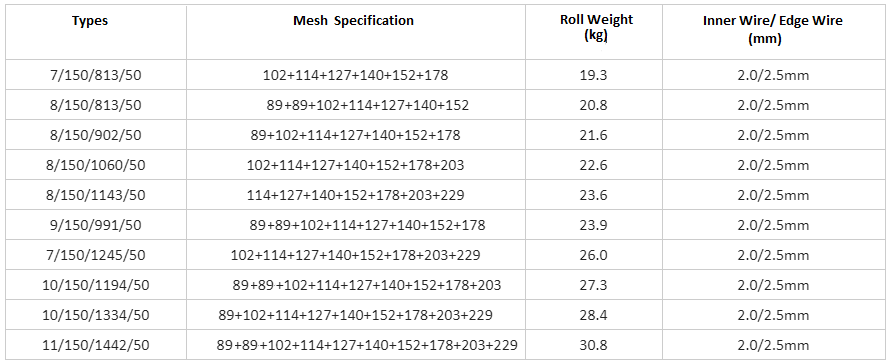 Note: we can also produce the mesh according to the customers special requirements.